Dried Scabs
How to Make Them: Purchase dried cranberries or cherries, place them in a bowl, and label accordingly. Voilà! You've got gross Halloween food.
Ready-to-Pop Pimples
How to Make Them: Disgusting, right? These are just pomegranate kernels-- a healthy treat that, with a gross name, might get the kids eating something other than cake and candy.
Booger Dip
How to Make It: Cheese dip (like Cheese Whiz or any packaged cheese dip-- whatever you like) with green food coloring = booger dip. Gross, kid friend, and oh-so-easy.
The Man-Eating Dip Demon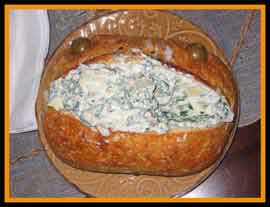 How to Make It: When serving a dip, like the spinach dip pictured here, serve it in an oblong loaf of bread cut lenghtwise for a gaping monster mouth. Add pimento-stuffed green olives for eyes. Tell kids to watch their fingers when they go to dip, or they might just be bitten off!
Cute Cheese o' Lantern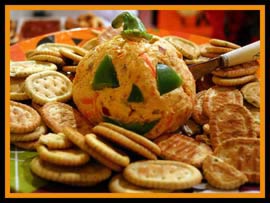 How to Make It: Take your favorite cheeseball recipe and add green pepper pieces to create a jack o' lantern face. Use the pepper stem for a pumpkin stem. One of the cutest easy Halloween recipes there is!
Pukin' Punkin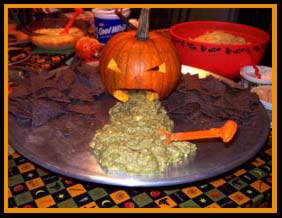 How to Make It: How can something as good as guacamole be so gross? To make this grossest of Halloween party recipes, carve a small pumpkin as if he were puking. Serve your favorite guacamole recipe as the puddle of puke in front of him. Place the whole thing on a festive Halloween tray. Laugh at the expressions of disgust on your guests' faces. if they're grossed out enough, you get to eat it all yourself!
_________________